VENUE and DIRECTIONS
This year the CDR will take place at SDA Bocconi School of Management's new Campus: an innovative urban space, a meeting point for excellence in research, education and architecture. A tower, four buildings, a sports center and a big park have been designed by Sanaa's Kazuyo Sejima and Ryue Nishizawa, and built on a 50-thousand-square-meter area. They feature harmony of curves, wide glass surfaces and high-tech infrastructures. But there is more to it. The Campus is also Near Zero Energy, a very best example of environmental sustainability. All the buildings are designed to enhance ideal sun lighting and natural ventilation, so as to minimize the use of artificial light and reduce energy consumption. Rainwater is also collected and reused. The Campus covers over 35-thousand-squaremeters indoor, with 39 wide automated classrooms, two big halls (one seating 300, the other 150), offices and common areas whose safety and efficiency standards few other institutions in Italy and Europe can match.
Thanks to its large spaces and innovative technology infrastructure, the Campus guarantees maximum safety and protection, enabling the School to provide the ideal learning environment for both online and on-campus participants.
HOW TO GET THERE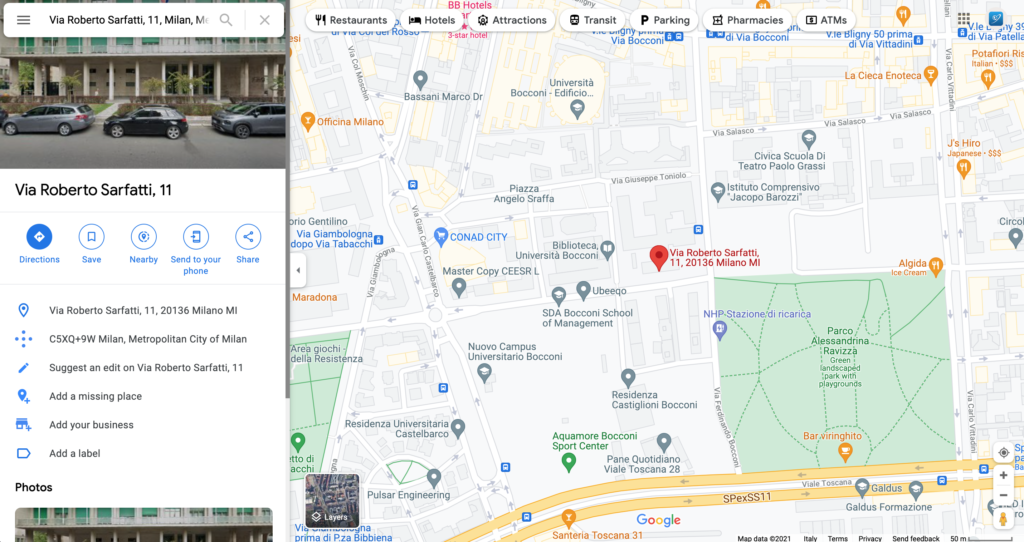 SDA Bocconi School of Management is at 10 Via Sarfatti, in Milan. The building contains the classrooms for the Masters and Executive Education Courses, as well as working and dining facilities for course participants, Department offices, Division offices, and the Director's and Dean's offices.
Arriving from Linate Airport
Take bus no. 73 and depart at Piazza 5 Giornate, then take tram no. 9.
Arriving from Malpensa Airport
Take the Malpensa Shuttle bus to Stazione Centrale, then underground line 3 (yellow line) towards S. Donato. Depart at Porta Romana station and take tram no. 9.
Alternatively, take the Malpensa Express train to Cadorna station, then underground line 2 (green line) towards Famagosta.
Arriving from Stazione Centrale (Central Railway Station)
Take underground line 3 (yellow line) towards S. Donato, depart at Porta Romana station and take tram no. 9.
Arriving by motorway
Take Tangenziale Ovest and exit at Viale Liguria.
Lastly, please find below some useful links you might include as additional info: